NEWS
CHINA TOURS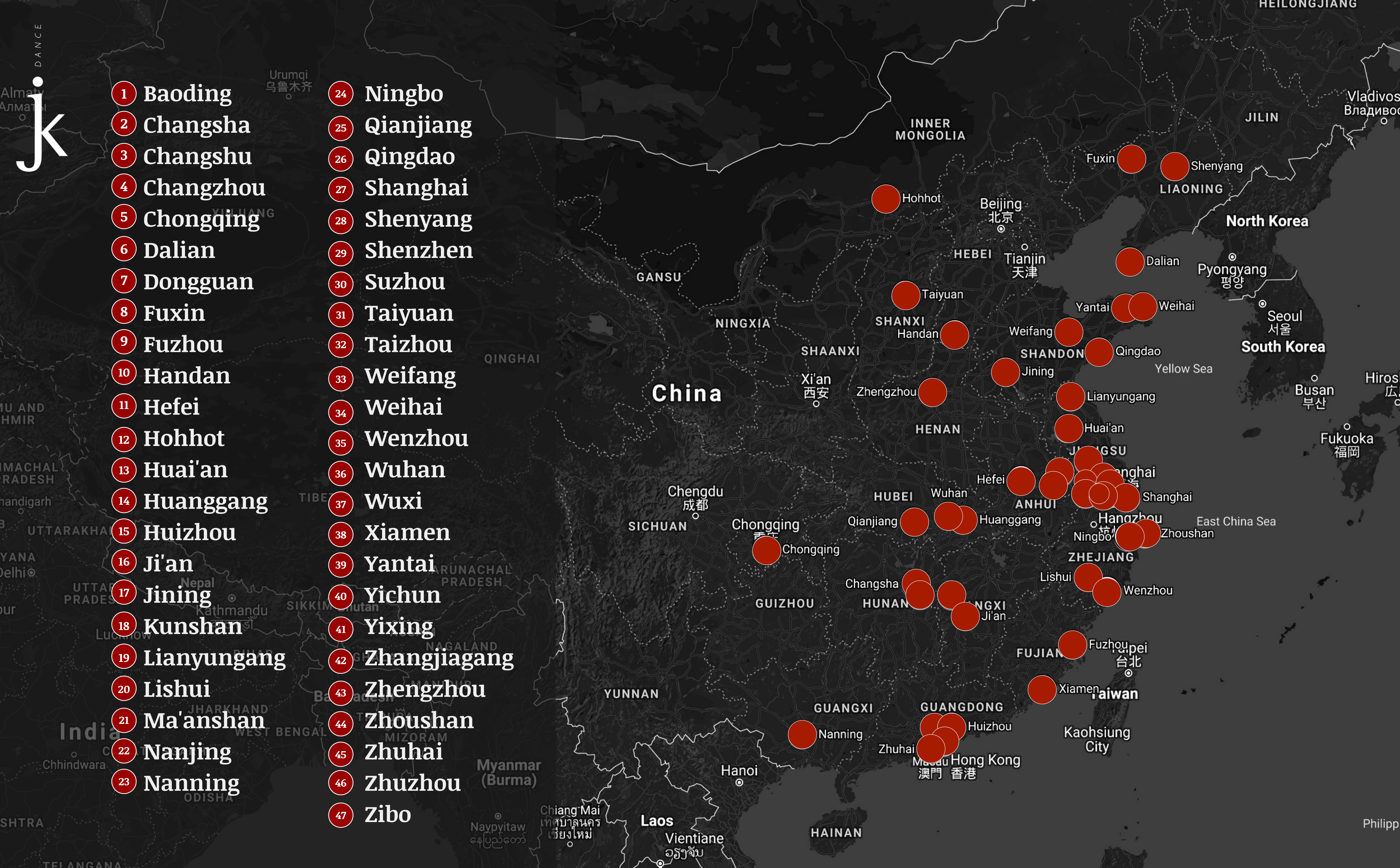 Jodi Kaplan / Booking Dance is proud to announce the success of Colombian National Ballet's 28-city tour throughout China featuring performances of their captivating production of the ballet "Don Quixote".

Jodi Kaplan's agency booked five incredible tours in China to date. Covering 47 cities geographically, each one is 6-9 weeks in length. Additional tours are being planned in Asia for 2020, during the Olympics in Beijing in 2022 and beyond!

View our China tour newsletter here.

ASIA
It is with enthusiasm that JK&A announces that the agency is planning extensive partnerships in China with festivals, theaters, and dance companies throughout the region.
NEWSLETTERS
Booking Dance Festival 2020 Showcases - News

National Ballet of Cuba - News

Performing Arts Exchange 2019

Arts Midwest 2019

Eisenhower Dance Detroit - News

Rennie Harris Puremovement - American Street Dance Theater - News


ANNOUNCING APPLICATIONS FOR OUR BOUTIQUE ROSTER!
We are currently accepting applications for the Boutique Roster! Make sure to apply on or before our July 1st, 2019 deadline to be considered. Applications will be reviewed in the order in which they are received. To access the application, click here. For more information about this exciting opportunity for artists, click here.
APAP
SAVE THE DATE - BOOKING DANCE FESTIVAL 2020 SHOWCASES

The 2020 edition of the Booking Dance Festival will take place on Saturday, January 11th, 2020 from 5:30-10:30pm at Jazz at Lincoln Center during New York City's annual APAP conference.

Tickets available now!
$55 Preferred/$85 Priority

Jan 10-14, 2020
New York City
http://www.apapnyc.org/
FESTIVAL NEWS
JK&A produces five-star international Booking Dance Festivals in Edinburgh, Scotland as a vehicle to showcase dance companies worldwide with the intention of securing participants touring opportunities. For seven years from 2009-2015 Booking Dance Festival Edinburgh brought over 50 different dance companies from the USA to the Edinburgh Fringe Festival! Our inaugural Booking Dance Festival Beijing took place during the 2008 Olympics in China. Plans are in place to produce Booking Dance Festival Beijing, coinciding with the 2022 Olympics. Email bookingdancefestival@gmail.com for more information.


WORKSHOPS
Jodi is available to teach and consult throughout the USA and internationally on an ongoing basis. She recently taught seminars on booking in India and Australia and will be doing extensive outreach in Asia over the next few years.


PROJECTS
Jodi Kaplan is currently working on her newest dance film The 18th Parallel in collaboration with internationally renowned photographer Lois Greenfield. For more information please visit www.jodikaplan.com


INTERNSHIPS
APAP Internships – please apply by October 1, 2019 for APAP 2020. Two options are available:
• APAP Affiliates garner extensive experience during the Booking Conference and showcases with JK&A. Commitment for the full APAP internship is two weeks overlapping with APAP – January 10-14, 2020
• APAP Showcase interns – A one-day commitment on January 11, 2020 with a preparation meeting the week prior to APAP.

Booking Dance Internships:
JK&A has 3-6 month internships available. Commitment is 15-20 hours per week. Internships in booking available for Fall (including the APAP conference) and Spring. Honorarium available.
Fall Internship – please apply by August 1st, 2019
Spring Internship – please apply by December 1st, 2019
Email resumes/cover letters to associate2@bookingdance.com





Artist Opportunities





No current applications.


---


Colombia National Ballet 2019- 28 Cities


CATAPULT 2018- 20 Cities


FJK 2018- 31 Cities


Bellydance Evolution 2016- 28 Cities
35 Performances


State Street Ballet 2015- 25 Cities
34 Performances










---