Producer Jodi Kaplan's Booking Dance Festival NYC is an annual dance extravaganza held during New York City's APAP conference each year. Built with the artist in mind, this annual showcase opportunity connects dance companies and performing artists with an audience of renowned presenters for the past seven years. Held at the breathtaking Jazz at Lincoln Center, our magnificent venue features 4,500 square feet of glass overlooking Central Park, the perfect backdrop for a magical evening of dance showcasing at the Asccoiation of Performing Artists Professionals conference.



Jazz at Lincoln Center
Saturday, January 11, 2020 5:30-10:30pm


FOR TICKETS:
Jazz at Lincoln Center Box Office
Broadway at 60th Street,
Ground Floor
Monday-Saturday 10am-6pm, Sunday 12pm-6pm
CenterCharge: 212-721-6500 www.jazz.org

$85 PRIORITY | $55 PREFERRED
Click HERE to purchase tickets

APAP PRESENTERS:

Visit us at Booth 2110 Hall II!

Go to the sixth floor VIP entrance to check in with Booking Dance staff.
No reservations necessary for showcase.


To date, Booking Dance Festival NYC has featured 128 different dance companies from 20 states across the U.S.A., with 1,000 dancers having performed in BDF NYC at Jazz at Lincoln Center. Since its inception in 2013, there has been an emphasis on highlighting American dance artists. Additionally, the festival invites a selection of top international artists to participate each year. Past artists have traveled all the way from China, Italy, France, Martinique, and Canada to perform at Booking Dance Festival NYC.


This year, we have a record number of artists showcasing at Booking Dance Festival 2020, with 30 different dance companies performing 40 pieces of choreography, featuring 250 dancers.
PERFORMANCE ORDER

Audience is free to come and go throughout the evening
5:30-6:30pm

Voloshky Ukrainian Dance Ensemble
YZ Performing Arts
SnD Productions
Alessandra Corona Performing Works
Louise Reichlin & Dancers / Los Angeles Choreographers & Dancers
Valerie Green/Dance Entropy
Vanessa Long Dance Company
DrumatiX
Just Sole! Street Dance Theater
6:30-7:30pm

Carolyn Dorfman Dance
Black Label Movement
Art of Motion Dance Theatre
Benjamin Briones Ballet
Hybrid Movement Company
Project SK+A
7:30-8:30pm

SHAPESHIFT
Chicago Dance Crash
Elisa Monte Dance
Enzo Celli/VIVO Ballet
Eisenhower Dance Detroit
Margie Gillis – Legacy Project
8:30-9:30pm

ShaLeigh Dance Works
Just Sole! Street Dance Theater
Voloshky Ukrainian Dance Ensemble
Carolyn Dorfman Dance
Water Street Dance Milwaukee
Ayalis in Motion
Black Label Movement
Water Street Dance Milwaukee
9:30-10:30pm

Found Movement Group
Souli'on Coterie
SALT Contemporary Dance
KAIROS Dance Theater
Guilty Pleasures Cabaret
Dancers Unlimited/DUNYC
Voloshky Ukrainian Dance Ensemble
A new emphasis for JK&A's eighth annual Booking Dance Festival is its educational outreach program, inviting young students throughout the NYC metropolitan area to view the performance for free, inspiring a new generation of artists.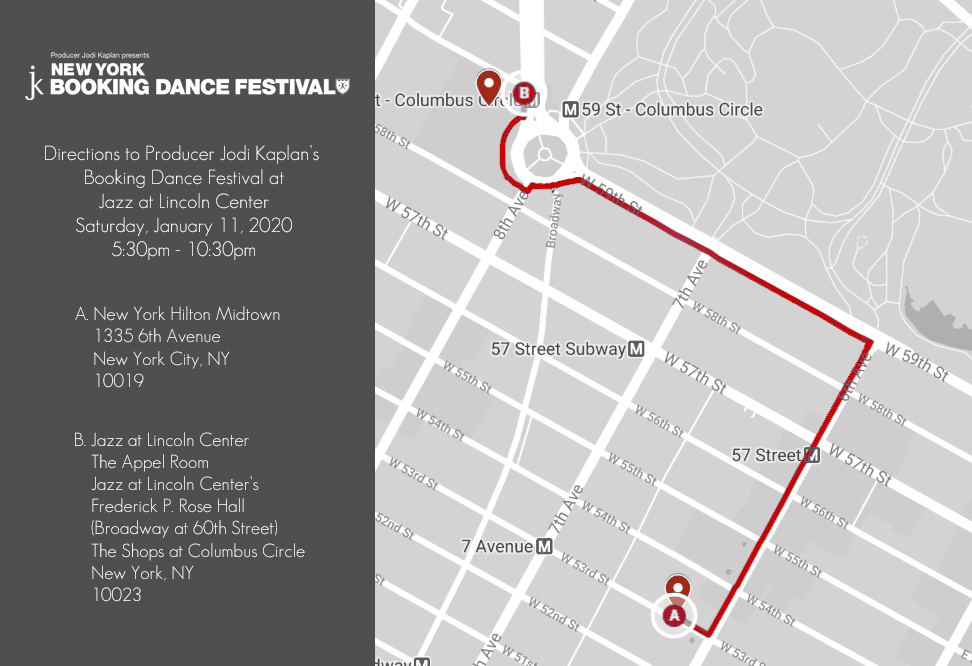 "Our company has been showcasing at APAP for over 30 years and I must say that this was the most pleasant and civilized showcase event. Your staff and volunteers were wonderful and the tech crew was very nice to work with. I especially appreciate how your programming and ambiance brings an artful touch to an evening performance… rather than showcases that can feel like cold business transactions."

Taras Lewyckyj PhD
Artistic Director
Voloshky Ukrainian Dance Ensemble

"Eisenhower Dance Detroit has been showcasing APAP for the last 10 years and Booking Dance Festival is by far the best experience yet! The staff is efficient, friendly and organized and the venue is BREATHTAKING! Every year the is audience packed with presenters and patrons and the dancers love performing with view of New York City as a backdrop. Booking Dance Festival is definitely something EDD looks forward to doing every year!"
Stephanie Pizzo
Artistic Director
Eisenhower Dance Detroit
Just Sole! Street Dance Theater's Showcase at the 2019 Booking Dance Festival at Jazz at Lincoln Center.