< BACK

2010 Festival Press - Reviews & Testimonials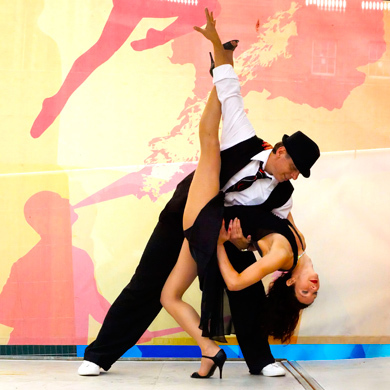 Ballroom Dancing For Tough Guys performs on one of the outdoor stages on the Royal Mile during The BookingDance Festival Edinburgh 2010 at The Fringe.
Image: James Rowbotham Dance Photography



- threeweeks

Three Weeks
Booking Dance Festival 1: Beautiful
Seven Dynamic Dance Companies from America in One Show!
Beautiful is almost too modest a term to describe this jam-packed hour and a half of sensational dancing. Charismatic producer Jodi Kaplan has gathered the best American companies to showcase their talent and provide the fringe with a much-needed dose of pure dance. Seven routines are squeezed into the time, making up a mini-festival of diverse and digestible snippets. Magical silhouettes, shapes of bold, flowing colour and inseparable, trusting duos all graced the stage, combining to create a truly mesmerising aesthetic. Michael Mao Dance closed the show with a particularly powerful section of animalistic choreography, complete with an urgent, drum-heavy soundtrack. Booking plan to dazzle further with three more instalments of their festival, and I can't wait to see them.
[email protected], 8 - 15 Aug, times vary, £8.00 - £10.00, fpp 143
tw rating: 5/5
published: Aug-2010

- Shimmy Skinny for BEAUTIFUL

Booking Dance Festival
Commonly Beautiful
Booking Dance promotes their Festival programme as "featuring a diverse range" of American modern dance works, and as being "designed to entertain the uninitiated (people who have never seen modern dance) as well as provide a glimpse into the current American dance scene for the professional community." Their first programme delivers on both accounts.

The seven pieces that comprise Festival Showcase: Beautiful are supposed to be held together by a common theme of said adjective, in contrast to the upcoming 'lyrical', 'athletic' and 'rock it!' themed programmes. However, although they do all feature beautiful moments, Michael Mao Dance's Weaving is primarily athletic, while Christine Jowers' Meditation Circa is fundamentally lyrical and Rebecca Stenn's Drinking the Sky is flat out technically masterful, though not necessarily traditionally beautiful. Therefore, despite the restricting title, the programme does achieve diversity — both of the choreography and of the look and feel of the seven pieces.


- Festival Magazine for BEAUTIFUL / LYRICAL
Booking Dance Festival 1: Beautiful
Written by Caroline Whitham | 15 August 2010
With six world-class American dance companies taking to the stage with Booking Dance's showcase, Beautiful, it's difficult to know where to begin. Fans of dance will be delighted by the smorgasbord of talent on show, while newcomers to the artform will be able to dip a toe in the water without being overwhelmed.
First on to the stage at the EICC is Rebecca Stenn, presenting a piece she has choreographed herself, Drinking the Sky. To the accompaniment of Chopin, she contrasts elements of classical ballet with modern moves that could be pulled from today's street dancers, commenting on the past moving forward through the present and the future.

- Festival Spotlight - 3 STARS! COMING SOON!
BBC news feature with Michael Mao Dancers - Coming Soon!
Three Weeks Podcast - Coming Soon!
NDTV News Broadcast - Coming Soon!
Fresh Air Podcast - Coming Soon!

"Two weeks in August 2010 in Edinburgh exceeded our expectations. Due to the dedication of the organizers, the EICC staff and the good will of the Edinburgh audience and press, we were treated royally in all aspects. Minister of Culture Fiona Hyslop loved our work. The theater was beautiful, the audience responsive, the lighting great, and reviews rave. Our dancers thrived as the Edinburgh sun shone upon us 15 of the 17 days. We could not have asked for more. Hurrah to all those who made this possible."
- Michael Mao Dance
" Executive Producer Jodi Kaplan has put together an incredible, vastly exciting and most unusual "Festival within a Festival" with her Booking Dance Festival. This past summer I had the remarkable opportunity to open Booking Dance Festival with a world premiere solo and the experience was amazing in every sense: I was treated with the utmost care and respect from Jodi and her staff, I performed alongside some of the most talented and charismatic dance artists working in the United States today, the stage and theater were world class, as was the tech staff, and audiences and critics alike were wildly enthusiastic."
- Rebecca Stenn

"Jodi's festival within a festival concept is brilliant. With panache, in the lovely EICC theater, she introduces art hungry festival goers - complete novices as well as avid dance fans- to a variety of engaging, thoughtfully curated , movement experiences. It was an inspiring pleasure to be a dance ambassador for the United States in Scotland and to see my work appreciated by a whole new audience across the pond!"
- Christine Jowers

"Our trip to Edinburgh Scotland as part of the Edinburgh Fringe festival was a truly unique and amazing experience. The city of Edinburgh itself is a magical place to be for its beauty, friendliness and ease. It was such a treat to perform in such a large and accommodating venue. Every person we worked with including the other dancers, was professional, helpful and did his or her job with exceptional skill. Jodi kept things running smoothly and made us feel comfortable and appreciated. Gigs like this don't come around every day and we were honored to be a part of it."
- Ballroom Dancing for Tough Guys
Heather Gehring, Artistic Director


"a wonderful experience all around in an excellent venue with professional staff. I hope we can return next year!"
- Vox Dance Theatre
Sarah Vox, Artistic Director